Mohammad Ali Taheri's Name in The Guardian
Source: Guardian
By Saeed Kamali Dehghan
Iran: seven key human rights challenges facing President Rouhani
After the success of moderates in the polls, hopes grow that Rouhani will follow his nuclear deal efforts by tackling issues including the high number of executions and arbitrary detention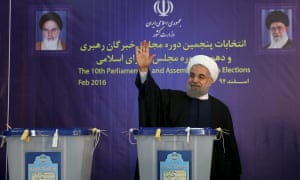 Boosted by the victory of his moderate allies in recent elections in Iran, the all-smiles President Hassan Rouhani is now in a stronger position to pursue the much-neglected human rights challenges facing his country.
Although rights violations in Iran are largely carried out by a judiciary and parallel intelligence apparatus that act independently of Rouhani's government, the president, as the most senior elected official in the Islamic republic, is responsible under the constitution to protect his citizens.
In the first two years of his presidency, Rouhani's focus was on resolving the nuclear impasse, which appeared to be as much a priority for his administration as it was for the electorate. With the nuclear dossier now almost closed and his main campaign promise delivered, Rouhani is being urged to shift his attention towards human rights, which critics say he has put on the backburner. His promise of establishing a citizens' rights charter is yet to materialise.
Nasrin Sotoudeh, a human rights lawyer living in Iran, said on Wednesday that she was pleased with the election results, even though a significant number of candidates had been disqualified from standing.
Sotoudeh said human rights violations remain a big concern for Iranian society but added it was important people managed their expectations, to avoid disappointment.
"We do not expect the president to play the role of the opposition," she said, adding that she did not want Rouhani to push beyond his capacity but to manage institutions not yet under his influence, such as the intelligence ministry.
"We believe Iranians themselves would also need to make an effort to improve their rights situation but the president can also pursue policies that will have positive consequences on human rights."
How much Rouhani delivers on greater domestic freedom in his remaining two years as president is likely to affect his chances of seeking re-election next year.
Alarming rate of executions, including juveniles
Former president Mahmoud Ahmadinejad was once single-handedly the most significant factor in damaging Iran's global image with his inflammatory statements denying the Holocaust. But that has now given way to the alarmingly high level of capital punishment.
News of positive developments in Iran is punctuated every so often by the execution of a new group of people. Mohammad-Javad Larijani, the head of Iran's state-run high council for human rights, has indicated that there are efforts to take a new law to parliament that will result in "almost 80% of the executions" going away but it is unclear if that effort is serious.
Most people executed are sentenced to death for drug offences, with trials widely condemned as unfair. Sotoudeh said too many cases have only one judge presiding from the beginning to the end when a death sentence is issued without judgments being challenged or thoroughly examined. It emerged last month that the entire adult male population of a village in southern Iran had been executed for drug offences, said the vice-president for women and family affairs.
According to Amnesty International, Iran remains a prolific executioner, second only to China. In 2014, at least 753 people were hanged, of whom more than half were drug offenders. In 2015, the group said it had recorded "a staggering execution rate" in the country, "with nearly 700 people put to death in the first half of the year alone". It said in a report published in January that 73 juvenile offenders had been executed between 2005 and 2015. One, Amir Amrollahi, is currently on death row even though he committed the crime when he was 16.
Not everyone on death row in Iran is a drug smuggler. Mohammad Ali Taheri, who has been held in solitary confinement since May 2011, is facing death for "spreading corruption on earth" through establishing a spiritual group called Erfan-e Halgheh and promoting beliefs and practices that authorities deem un-Islamic.
Read full article: https://goo.gl/7i9cXQ
Please follow and like us: